Metal Systems
Metal systems are an excellent option for severe snow areas and for those who want lifetime protection.
Commercial Roofing Experts installs multiple types of metal roofing including standing seam steel, aluminum shingles or shakes, and stone coated steel. Although the warranties will vary all metal roofs have the potential to last longer than the structure itself.
We install standing seam panels which are typically fabricated on site with a computerized, portable metal forming machine.  
We can use multiple types of metal including steel, copper, aluminum, and zinc.  You can choose the gauge (thickness), color, and even profile you would like.  Since the panels are fabricated on site there is less waste and typically less time waiting for materials. 
In addition, we are able to fabricate custom flashing as needed; either on site OR with one of our partner metal shops, This will ensure that your new metal roof is complete in every detail.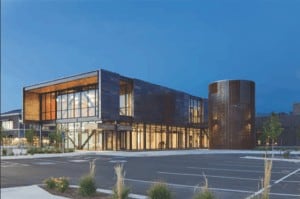 If you choose a painted metal, it will include a Kynar paint system, or equivalent.  The traditional "poly-siliconized" paint systems fade much faster than the new Kynar paint systems on the market.  We can also install "rusted" steel panels for a more sophisticated architectural look.
If you prefer to have an aluminum shingle or shake we can install one of a few systems manufactured by Classic Products.   All of the Classic Products systems have a "limited lifetime" warranty and are even transferable for a portion of the warranty.  The paint system is the same Kynar type that we use on our standing seam roofs.
We also install stone coated steel systems manufactured by both Gerard and Decra. These systems have a 50 year warranty.  The beauty of these stone coated systems is that the typical paint sheen of a metal roof is avoided thus giving a more authentic look.  These systems are also considered to be a "cold roof" which is very helpful in avoiding ice dams in certain climates.
Whichever metal system you choose, in addition to the manufacturer's warranty on materials, Commercial Roofing Experts will provide a 5-year labor warranty.